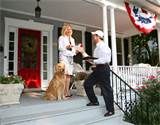 You have a choice when it comes to residential pest control services in Florida.
When unwelcomed pests invade your home, just call Tropical Pest Management for all of you residential pest control needs!
Every day more local families have discovered that having Tropical Pest Management for their residential pest control is the best way to protect their homes, families, and pets from harmful pests.
Tropical Pest Management will design a custom residential pest control program to help you keep your family and home protected. We use environmentally responsible pest control materials and methods, Tropical Pest Management will help you maintain all the comfortable living spaces both inside and outside of your families home.
Pests have no defense our trained technicians. Our employees treat your home as if it was their own. Our trained technicians extensive experience, they will always take all the necessary precautions to carefully place the pest control materials in and around you families living areas. Always creating and then maintaining a protective barrier, Tropical Pest Management will shield your family from potentially harmful pests that may try to invade your families.
Ants, roaches, spiders, whiteflies and many other pests are never welcome in a Tropical Pest Management home.